Màn hình chuyên dụng LCD Sony PVM-A250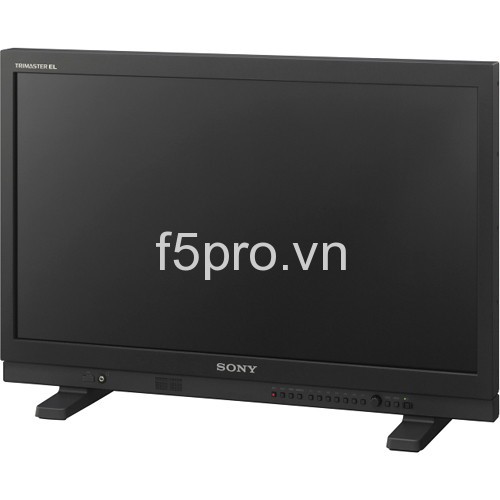 The Sony PVMA250 25" Professional OLED Production Monitor is suitable for both field and studio use. It features a 24.5" diagonal OLED panel that has a native resolution of 1920 x 1080. Because of the OLED technology employed, each pixel can be switched completely off--unlike typical LCD displays--for a much closer approximation of true black. It can be connected to standard- and high-definition video sources via SDI or HDMI as well as analog standard-definition sources through composite.

The PVMA250 features two SDI inputs with loop-out that support 3G-SDI, HD-SDI, and SD-SDI signals at resolutions up to 1080p60. In addition, 24 fps frame rates are supported, including 23.98p, 23.98Psf, 24p native, and 24Psf. It features an HDMI input that supports 1080p60, 24p, 23.98p, standard-definition, and a number of computer resolutions. A composite input with loop-out provides connectivity for standard-definition analog devices and is paired with a 3.5mm stereo mini jack audio input. A front panel 3.5mm headphone jack allows users to monitor embedded audio locally and there is also a 1W built-in speaker.

Two Ethernet ports provide connectivity for serial and parallel remotes. Many third-party options can be used, as well as the Sony BKM-15R and BKM-16R. The monitor includes a removable desktop stand and is also compatible with standard VESA 100 x 100mm mounting hardware.
Màn hình chuyên dụng LCD Sony PVM-A250
Monitor Type
10-bit OLED
Screen Size
24.5"
Viewable Area
21.5 x 12.1" / 543 x 306 mm
Resolution
1920 x 1080
Aspect Ratio
16:9 native - also supports 4:3
Viewing Angle
89° up / 89° down / 89° left / 89° right - typical; contrast > 10:1
Inputs
2 x SDI on BNC female
1 x HDMI - HDCP support
1 x Composite on BNC female
1 x Analog audio on stereo 3.5 mm mini jack
Outputs
2 x SDI loop-out on BNC female
1 x Composite loop-out on BNC female
1 x Analog Audio on 3.5 mm mini jack
1 x Headphone on 3.5 mm mini jack
1 x 1.0 W speaker
Remote Control
1 x Parallel remote port on RJ-45 connector
1 x Serial remote port on RJ-45 connector
Supports: Optional BKM 15R and / or BKM 16R remotes
SDI Standards
3G-SDI (SMPTE 425M), HD-SDI (SMPTE 292M), SD-SDI (SMPTE 259M)
Supported Resolutions
SDI, HDMI, Composite: 720 x 480 at 60i; 720 x 576 at 50i
SDI and HDMI: 1920 x 1080 at 60p, 60i, 24p, 23.98p; 1280 x 720 at 50 or 60 Hz
SDI Only: 24Psf, 23.98Psf
HDMI Only: 1280 x 1024, 1280 x 768, 1360 x 768, 640 x 480 - for computer sources
Format Support
Composite: NTSC or PAL
Digital RGB: 720p, 1080i, 1080p
Digital Y Pb Pr: 720p, 1080i, 1080p
Digital Y R-Y B-Y: 525 line or 625 line
Closed Caption Support
Displays EIA 608, and EIA 708 captions
Operating Temperature
32 to 95°F / 0 to 35°:C
Storage Temperature
-4 to 140°F / -20 to 60°C
Humidity
0 to 90%
Pressure Tolerance
700 hPa to 1060 hPa
Power Requirements
AC Power Adapter: 100 to 240 VAC (1.3 to 0.6 A) / 50 or 60 Hz
Power Consumption
Maximum: 115 W
Typical: 80 W
VESA Compatibility
100 x 100 mm
Dimensions (WxHxD)
With Stand: 23.8 x 16.1 x 6.5" / 60.5 x 40.9 x 16.5 cm
Without Stand: 23.8 x 15.3 x 2.6" / 60.5 x 38.7 x 6.6 cm
Weight
13.4 lb / 6.1 kg